We adopted our labradoodle puppy Shea from Linda this Fall. Shea is a wonderful puppy and has adjusted very well to her new family. She is the perfect balance of a cuddly and playful dog. Shea was very well socialized with both humans and animals. Linda was very helpful and truly cares for all of her dogs and puppies. I would recommend this breed and this breeder to anyone. Linda is wonderful and the puppies are smart and adorable!
Debbie, Perth, Ontario
Doodle: Shea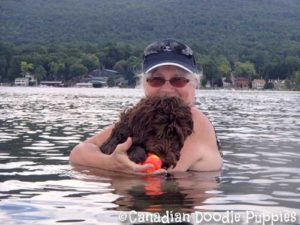 Maggie was a perfect fit from day one. We are commpletely in love with her. She loves anyone she meets, has easily adapted to the day to day routine and is quite simply an absolute dream of a dog. Why does everyone say it's so demanding to train a puppy? I guess they don't have a Canadian Doodle! Thanks again Linda, she is really wonderful.
Stefanie and Andrew, Montreal, Quebec
Doodle: Maggie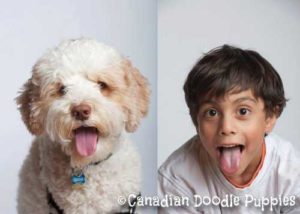 Beth writes: Linda thanks so much for letting this beautiful dog into our family. He's great company. When you walk in the house it is great to have a slurpy welcome from Winston.
Ben writes: Dear Linda. Thank you for giving us this awesome dog. He is very nice and playful. He is a very wonderful 'hairy' brother.
Lily writes: When you're feeling down, he turns your frown upside down ! Wherever I run he follows me. I am never alone.
Jennifer, Dan, and the animals, Ottawa, Ontario
Doodle: Winston
Fenway has been absolutely AMAZING! He is so smart and catches on to things so quickly, it is unbelievable! He can already sit, lie down, go to his place (or bed), and give both paws! Fenway is a big hit with both of our families and friends. We can't get over how smart and able he is to quickly adapt to any situation. Thank you so much! We absolutely love him!
Shannon and Tim, Montreal, Quebec
Doodle: Fenway
Ginger is a delightful puppy, smart and cuddly with an occasional stubborn streak. It's so clear to us that she received the best of care while she was with you for her first eight weeks. Everyone on the street stops to ask us where we got such a beautiful dog. Thank .you for all the love and care you put into your breeding.
Garry, Deborah, Ben and Mikayla, Montreal, Quebec
Doodle: Ginger
After hearing that Cassonade was soon to be bred we decided to add a third Dood to our existing pack of two. It was a great experience from the start. Linda kept us informed every step of the way while demonstrating her commitment to the health and well being of Cassonade and the puppies. She also assisted us greatly in making the decision between a third female or choosing a male. We went with a male and the integration was perfect. Elmo is a great dog and we are all enjoying him so much. To quote his vet "Elmo is a fine representation of his breed". It is evident that during the first eight weeks of his life Linda provided him with a loving home and lots of socialization. We appreciated Linda inviting us into her home to visit with Elmo during that time. We would not hesitiate to recommend Linda to anyone seeking a responsible breeder. He is now a registered therapy dog. I have been working with him for the past 2 year (obedience) and we went for our qualifying exam in January and passed at the head of our class. It is extremely rewarding and he seems to enjoy it so much! It is a great credit to your breeding habits. I continually get compliments of how wonderful he is, well behaved, handsome and a wonderful personality... and then asked where did I get him. Coincidentally we were on your site last night and yearning for another. Once I retire I will be at your door wanting another to add to our pack.
Jocelyn and Sue Ottawa, Ontario
Doodle: Elmo