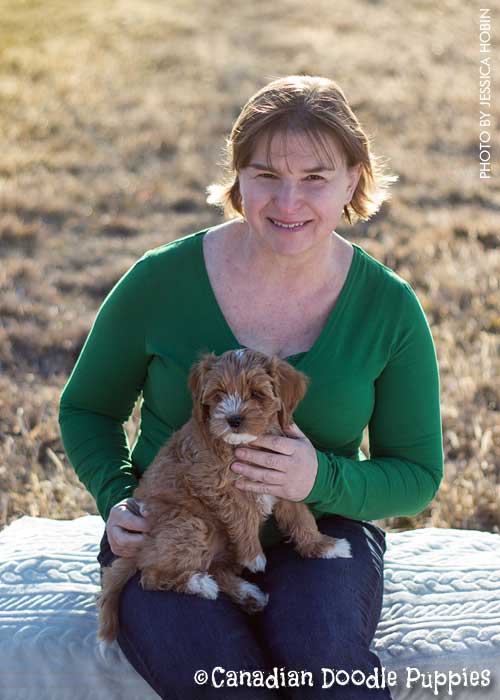 We are a family breeder located in Ottawa, Ontario, Canada. We have two acres, fully fenced in the rural part of the city.  We began our breeding journey in 2007.
We have a number of retired and still active breeding dogs that live with us, however, most of our dogs live in guardian homes. These wonderful guardian families provide love and support to our breeding dogs to ensure they are in the best physical and mental health.
The primary caregivers of our Mommas and Pups are myself, Linda, and our Canine Governess. We are supported by the fabulous Vets, Vet techs, and Staff at Cedarview Animal Hospital in Barrhaven.
Our puppies are born in their own puppy nursery, right beside the kitchen, in a warm and clean, as well as safe, dog friendly environment. Once the pups are 6 to 7 weeks old we start to socialize them into family life by providing play time to take place where they are exposed to my other dogs and the hustle of family life. Some of our pups are raised in the guardian family's home for the first 6 weeks, coming back to my home once they are weaned from Momma.
Breeding healthy and well tempered dogs is important to us. We select our breeding stock with great care and strive to provide an enriching experience to our pups while in our care.
We are a member breeder of the Worldwide Australian Labradoodle Assocation, and volunteer with the organization. We have also been accepted as a Premium Breeder and an Avidog Associate.
Corporate social responsibility is important to us. As such we aim to support organizations that promote the human animal bond. We are a corporate sponsor of Ottawa Therapy Dogs and Community Veterinary Outreach.
---
Current Breeding Priorities
Temperament: Balanced, in terms of energy, courage, stress level, assertiveness, patience, and dependence.
Health: Absence of disease related to hips, elbows, thyroid, eyes, heart, and genetic disorders.
Functional Structure: Skeletal structure is balanced in terms of neck, front assembly, arms, back, rear assembly, legs.
Genetic Diversity: The coefficient of inbreeding is sufficiently low to limit the risk of two unknown recessive genes being inherited.
Breeding prospects are selected at 8 weeks of age based on their temperament assessment, functional structure assessment, and an initial health exam that will confirm no heart issues.
Between the ages of 9 and 14 months, the breeding prospects are subject to more rigorous health testing. X-rays of their hips and elbows are rated by E-Vet diagnostics and/or PennHIP. Eyes are evaluated by an Ophthalmologist in accordance with CAER. Hearts are tested on an annual basis via auscultation. Genetic disorders are tested via DNA submitted to PawPrint Genetics, VetGen or Optigen. Breeding prospects that don't meet our standards are spayed/neutered and live out their lives as treasured pets to their guardian families.
---
Selecting a Breeder
What to Ask?
Take your time and ask the right questions.
Health Testing – What testing, if any, has been done on the parents. The highest standards of testing would be hips, elbows, thyroid, heart, eyes and relevant DNA genetic disease testing. Health testing will not guarantee the health of your dog, but it will increase the likelihood you won't have issues.
Annual health checks with the local Vet are not the same as rigorous health testing.
Warranty – Does the breeder provide a warranty, what is covered, how long does it last?
Prenatal Diet – What kind of food did the mother eat while pregnant?
Puppy Diet – What kind of food will the pups be eating?
Look them up on:
Some Breeders feed 1 star food and some feed 4/5 star. It is proven that the quality of nutrition the mother receives while pregnant affects the pups.
Puppy Enrichment Activities – What kind of activities does the breeder expose the pups to? What happens in the early weeks can have longer term impacts.
Temperament Testing/Assessments – What kind of testing is done on the puppy prior to selection to ensure the suitability of the pup for your lifestyle? What tools are used to assess temperament? Ensuring a good match of temperment to lifestyle enhances the bond with your dog.
Environment – Where will the pups be raised? You may (or may not) have a preference for a home raised pup rather than a kennel raised pup.
Get the Complete Price – What does the cost of the pup include? Vaccines? microchips? health exam? spay/neuter? If the breeder incurs them, you don't have to, but the purchase price will be higher.
---
Corporate Social Responsibility
If 'Corporate Social Responsibility' is important to you for retailers you deal with, there are more things you may want to learn about the breeder:
Does the contract require you to return the dog to them if you can no longer keep it? This is to make sure their dogs NEVER end up in a shelter.
Does the breeder 'give back' to the dog community (i.e. rescues, humane shelters, etc) with either time or money?
Does the breeder engage in professional development? Professional development is different than experience – it involves attending educational events, seminars, courses, etc all aimed at bettering the breed and their breeding program.
It is important to understand that the more the breeder offers, the higher the purchase price will be. That is because health testing is expensive, building a breeding program of quality lines is expensive, good food and good health care is expensive, investing in all aspects of the pups' wellbeing is expensive. Some of these things may not be important to you and that's perfectly fine. You will be able to find breeders that offer a range of 'services' and a range of prices. You need to find one that offers those that are important to you. Also, don't be surprised if the breeder does not allow you to visit. Accepting visitors puts the health and safety of the Doodle Moms and Doodle Puppies at risk. The breeder's primary commitment is to the Mommas and Pups.